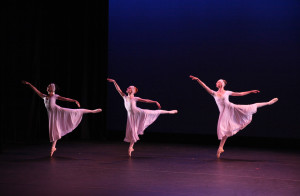 IBT is pleased to announce that several of our artists have received scholarships and awards as a result of their participation in national competitions so far this year. These include Youth America Grand Prix in Los Angeles, Youth America Grand Prix Finals in New York City, and American Ballet Competition in Boston.
Congratulations to:
Catherine Aoki:
Awarded scholarship to Ballet Austin Summer Intensive, 2013; American Ballet Competition 2013 – Placed 2nd in contemporary category; Scholarship to Atlanta Ballet, summer 2014.
Ashleigh Richardson:
Youth America Grand Prix New York Finals 2013.   Awarded Scholarship to the Rock School of Dance Education, summer 2013; American Ballet Competition 2013. – Awarded  the Bournonville Academy Summer in Biarritz, France, 2014.
Danielle Dreis:
American Ballet Competition 2013. – Awarded scholarship to Interlochen Arts Academy Summer Camp 2014.
All Three were awarded scholarships to Interlochen Arts Academy Year.
Raymond Van Mason, American Ballet Competition 2013. Awarded Excellence in Teaching and 3rd place for the ensemble work in  "Turning Back."
As a result of the experience in Boston, IBT is also pleased to welcome Maria Alejandra, from Bogota, Colombia, as a scholarship recipient for the Summer Intensive program at IBT. 
Imagine Ballet Theatre will be hosting their Summer Intensive from July 8th to August 9th, , at IBT Studios, 2432 Washington Blvd. Ogden Utah.
Guest Teachers will include:
Gary Flannery, former star of Broadway and movies, including All That Jazz;  Oswaldo Muniz, former dancer for Pennsylvania Ballet, Oklahoma Ballet, and Edward Villella and Dancers; Allynne Noelle, principal dancer for the Los Angeles Ballet and former soloist with Miami City Ballet; and others!
This is a fabulous opportunity for dancers to focus on their art and receive individual expert instruction in a variety of dance genres.  A past participant stated, "Summer at IBT changed me as a dancer.  It gave me the skills and the confidence to really believe in myself as a performing artist."
About Imagine Ballet Theatre
Raymond Van Mason, Artistic Director, created IBT in 2004, to offer the company of dancers an opportunity to work with professional artists and foster professional performing experiences. IBT encourages involvement in the arts through The School of Imagine Ballet Theatre and the performing company. Imagine Ballet Theatre has gained national and state recognition by receiving the 2005 Utah Best of State Award for Best Children's Performing Group, as well as invitations in 2004 & 2006, to perform at "Dance Under The Stars Choreography Festival" at the McCallum Theater in Palm Desert, CA. They returned from the 2006 competition with the Judy G. Mayer Award for Small Groups. In 2005, the company received a certificate of recognition from the Ogden City Council for their contribution to Ogden's art community. For 2007, the company has been awarded a Utah Performing Arts Touring Grant from the Utah Arts Council. Dancers within the company have received recognition and summer scholarships from prestigious ballet companies such as: American Ballet Theater (NYC), Boston Ballet, Pacific Northwest Ballet (Seattle) The Rock for Dance Education (PA), and others, Ballet Austin, Atlanta Ballet, Bournonville Academy Biarritz (France), Interlochen Center for the Arts, and others.
###