Bournonville Workshop with the Masters Teaches Tradition of Joyful Movement
"I was already that kid who turned on classical music, moved all the furniture and just danced around the room to the music," happily remembers Henning Albrechtsen, one of the master instructors teaching this week at Imagine Ballet Theatre in Ogden, Utah during the Bournonville Workshop with the Masters. "The first time I danced Bournonville, it felt liberating," Albrechtsen smiles while talking about the technique famous for light and intricate footwork, "I remembered the reason I started dancing – to move to music, to express joy and freedom."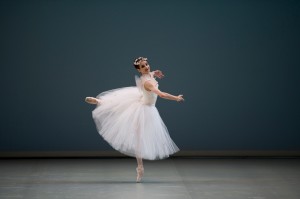 This week, students as young as age 7 spanning all the way to advanced teachers have enjoyed learning from Dinna Bjorn, Eric Viudes, Henning Albrechtsen, and Dianna Cuni Mancini, four master instructors of the techniques of Auguste Bournonville. Dinna Bjorn, who has been sharing her passion for Bournonville technique since 1975, is pleased to be teaching students of such varying ages. She says that it is wonderful to teach those that are so young, because they will then grow up with the knowledge. Bjorn recalls that in Denmark, education in Bournonville technique begins at age 8 and says that the students of the Ogden workshop are doing very well. "It is a very demanding technique when they are that young. It requires that you are already quite advanced in your ballet technique."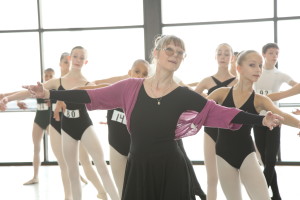 Bjorn says that the content of this workshop is unique because students are not only taking classes in technique and repertoire (choreography), but also in mime, which is a signature of Bournonville Ballet. "To do mime is really great," Bjorn says enthusiastically, "You can relax and have fun playing a part." She enjoys seeing the creativity of each individual student come out. Repertoire, as Albrechsten explains is exercises that are little perfect solos from a different century.
Mime is an important part of August Bournonville's style because of the focus on storytelling. "Bournonville is ballet about normal, common people," Bjorn explains. "It is always telling stories. It is joyful dancing and even if it is a bit dramatic, it always ends happy," Bjorn shares. "Well, except La Sylphide," she says under her breath with a smile.
"When I had my first taste of Bournonville, I did not fall in love," says Eric Viudes, one of the quartet of master teachers visiting Utah. ." Viudes is the self-proclaimed "foreigner" of the group of instructors, yielding from France rather than Denmark. He jokes that this travelling group is a perfect union for him because he likes to dance and he likes to travel, but he doesn't like to travel alone. "The more I got better in my profession, the more I know how important Bournonville is. It is a living tradition." Viudes believes that the technique is ultimately important in the complete education of a good dancer. "It is like thinking you don't need to write a language to speak it well."
Albrechtsen praises the variety of age groups participating in the workshop. "It gives the little ones someone to look up to. If you are not looking up to anyone anymore, it is time for you to move on because you are the one being admired."  After completing his education at Teachers Training Program for former professional dancers at the National Ballet School of Canada, Albrechtsen returned to the Royal Danish Ballet as full-time faculty. "I was surprised that they considered me a teacher," Albrechtsen says of his invitation to join the touring team of Bournonville instructors, "Because I wasn't a kid when I started and I am really too tall for Bournonville." The key to teaching ballet is to tell them what TO DO and not always what NOT TO DO, Albrechtsen explains. "It is so fun to see when they surprise themselves—conquer an obstacle."
The Bournonville Workshop with the Masters has been ongoing from June 20 through June 27, 2015. The event will conclude with a performance at Peery's Egyptian Theatre Satuday, June 27, from 7 p.m. to 8:30 p.m. Bjorn describes the evening as a little performance and informal presentation of the week's work. She anticipates sharing a film or information about Bournonville, but the only performers will be the workshop's participants. Seats can be reserved at http://www.egyptiantheaterogden.com/ for $10 and $15.
This Bournonville workshop was first taught outside Denmark six years ago in 2009. It has been taught in France, Tokyo, and now in Ogden, Utah. Bjorn has known Imagine Ballet Theatre's Artistic Director Raymond Van Mason for many years due to IBT's participation in the American Ballet Competition, who is co-sponsoring the event. Bjorn had been teaching seminars for teachers at ABC when Van Mason became interested in a Bournonville intensive for the students of his Ogden, Utah-based youth ballet company. Bjorn was enticed by the collaboration, "I had taught some Bournonville in 1985, in Michigan and I really wanted to do it again in America." Both Bjorn and Van Mason are hoping to make the union and the intensive an ongoing event in Utah, perhaps with an earlier date to avoid other ballet instruction intensives and facilitate more participation for area dancers.
"If people want to learn something about Bournonville, you only have to know it is here and now in Ogden," concludes Viudes.
Article by Chaundra Wilson