IMAGINE BALLET THEATRE 2014 SEASON
Tickets for performances  are available at:
Peery's Egyptian Theater,
2415 Washington Blvd.
Ogden, Utah
The box office  is the first door south of the main theater entrance. Box office hours are 2pm to 6pm Monday through Friday and 60 minutes prior to a performance for show-specific ticket sales and Will Call pickup.
For ticket and performance info, call 801-689-8700.
RMCF2014 Rocky Mountain Choreography Festival presented by Imagine Ballet Theatre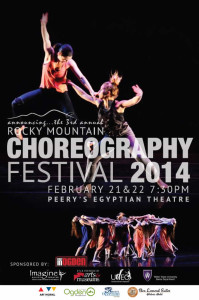 Imagine Ballet Theatre (IBT) is pleased to present the Third Annual Rocky Mountain Choreography Festival (RMCF) to take place on February 21st and 22nd at 7:30 p.m. The festival is open to both amateur and professional choreographers and will feature solo, small groups, and ensemble performances of a variety of dance types. The winning choreographer's grand prize will include theater rental and a crew for a performance night in October of 2014
An evening of Folktales: Peter and the Wolf and Urashima Taro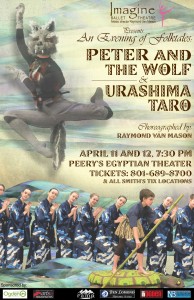 Score:  Prokofiev for Peter and The Wolf
Score: Takashi Yoshimatsu for Urashima Taro
Choreography: Raymond Van Mason
Scenery painted by: Sherry Ferrin
April 11th and 12th 7:30 pm
Peery's Egyptian Theater
The Winner of the Rocky Mountain Choreography Festival in Performance:
Winner is Carrie Lee Miles Las Vegas,Nevada
Show Oct 11, 2014 7:30 pm
Urashima Taro: A Japanese Folktale

September 19, 2014
Imagine Ballet Theatre
The evening will consist of The Ogden Buddhist Taiko Drummers under the direction of Stan Harai and the Imagine Ballet Theatre under the direction of Raymond Van Mason. Together we will submerse the audience in a delightful evening showcasing the Arts and Culture of Japan.

Urashima Taro, by Yei Theodora Ozaki
Written in 1908

One day a young fisherman named Urashima Tarō is fishing when he notices a group of children torturing a small turtle. Tarō saves it and lets it to go back to the sea. The next day, a huge turtle approaches him and tells him that the small turtle he had saved is the daughter of the Emperor of the Sea, Ryūjin, who wants to see him to thank him. The turtle magically gives Tarō gills and brings him to the bottom of the sea, to the Palace of the Dragon God (Ryūgū-jō). There he meets the Emperor and the small turtle, who was now a lovely princess, Otohime.

Tarō stays there with her for a few days, but soon wants to go back to his village and see his aging mother, so he requests Otohime's permission to leave. The princess says she is sorry to see him go, but wishes him well and gives him a mysterious box called tamatebako which will protect him from harm but which she tells him never to open. Tarō grabs the box, jumps on the back of the same turtle that had brought him there, and soon is at the seashore.

When he goes home, everything has changed. His home is gone, his mother has vanished, and the people he knew are nowhere to be seen. He asks if anybody knows a man called Urashima Tarō. They answer that they had heard someone of that name had vanished at sea long ago. He discovers that 300 years have passed since the day he left for the bottom of the sea. Struck by grief, he absent-mindedly opens the box the princess had given him, from which bursts forth a cloud of white smoke. He is suddenly aged, his beard long and white, and his back bent. From the sea comes the sad, sweet voice of the princess: "I told you not to open that box. In it was your old age …"
Admission Info

Admission Details: $15.00, $18.00 and $25.00 seats

Ticket / Info Phone: (801) 581-7100

Dates & Times

Dates:
September 19, 2014

Individual Date & Times:
Sep 19, 2014: 7:30 pm – 9:30 pm (Fri)

Venue Info

Kingsbury Hall – University of Utah

1395 East President's Circle Salt Lake City, UT 84112
Nutcracker Ballet Tea at the Ben Lomond
Dec 6 2:00-4:00 pm
There are activities for the kids, tea and cakes, photo opps with Clara, Sugar plum, Snow Queen, and Story Telling.  So start the holidays off right.  Reserve your tickets  by calling 801-393-5000. Tickets $15.00 each.
"Nutcracker" with the New American Philharmonic Orchestra
under the direction of David Van Alstyne.

Score by: Pyotr Ilyich Tchaikovsky
Choreographer:  Raymond Van Mason
Scenery painted by : Sherry Ferrin
December 12th, 13th, 15th, 19th @ 7:30pm
Matinee on December 13th and 20th @ 2:00pm
Peery's Egyptian Theater