IMAGINE BALLET THEATRE 2014 SEASON
Tickets for performances  are available at:
Peery's Egyptian Theater,
2415 Washington Blvd.
Ogden, Utah
The box office  is the first door south of the main theater entrance. Box office hours are 2pm to 6pm Monday through Friday and 60 minutes prior to a performance for show-specific ticket sales and Will Call pickup.
For ticket and performance info, call 801-689-8700.
RMCF2014 Rocky Mountain Choreography Festival presented by Imagine Ballet Theatre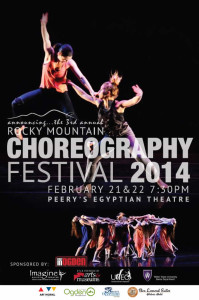 Imagine Ballet Theatre (IBT) is pleased to present the Third Annual Rocky Mountain Choreography Festival (RMCF) to take place on February 21st and 22nd at 7:30 p.m. The festival is open to both amateur and professional choreographers and will feature solo, small groups, and ensemble performances of a variety of dance types. The winning choreographer's grand prize will include theater rental and a crew for a performance night in October of 2014
An evening of Folktales: Peter and the Wolf and Urashima Taro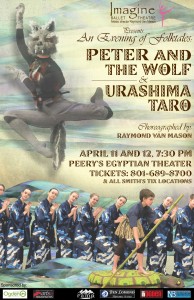 Score:  Prokofiev for Peter and The Wolf
Score: Takashi Yoshimatsu for Urashima Taro
Choreography: Raymond Van Mason
Scenery painted by: Sherry Ferrin
April 11th and 12th 7:30 pm
Peery's Egyptian Theater
The Winner of the Rocky Mountain Choreography Festival in Performance:
Winner is Carrie Lee Miles Las Vegas,Nevada
Show Oct 11, 2014 7:30 pm
"Nutcracker" with the New American Philharmonic Orchestra
under the direction of David Van Alstyne.

Score by: Pyotr Ilyich Tchaikovsky
Choreographer:  Raymond Van Mason
Scenery painted by : Sherry Ferrin
December 12th, 13th, 18th, 19th @ 7:30pm
Matinee on December 13th and 20th @ 2:00pm
Peery's Egyptian Theater