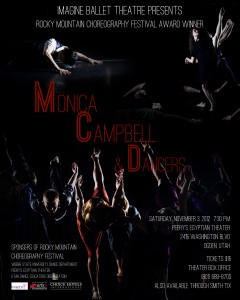 Join Monica Campbell and Dancers at Ogden's historic Egyptain theater for an evening of innovative and thought provoking dance. The program will include the premier of a new work in addition to some older audience favorites.  Highlights include Breathing Room (2009), an upbeat, lighthearted duet that explores the age old question of proximity in relationships.  Also on the program is the award-winning excerpt from the Final Hours (2010), which was most recently presented in the Gala performance of the American College Dance Festival Northwest Region. Watch for some special guest performances by Repertory Dance Theater priniple alumna Angie Banchero-Kelleher in Campbell's The Visitor (2007), and Ririe-Woodbury veteran Jill Vorhees Edwards and Monica Campbell in Chai Chi Chiang's So…What's Next?
The evening will culminate with the premier of The Spring, a highly physical thirty-minute piece inspired by the events of the Arab Spring. An amazing cast of twelve dancers charge through the space as they explore ideads of revolution, community and the individual intensity and commitment necessary to forge cultural change.
This evening of dance will highlight the latest works of choreographer Monica Campbell, whose work often strives to provide commentary on the role of the individuals in shaping their societiesand forging their identities. Don't miss it.
Monica will be teaching Master Classes throughout the community.
Oct 20th, 10-11:30 am
Ririe Woodbury Dance Companypresents: Saturday Studio Series, advanced modern dance class@ the Rose Wagner Performing Arts Center located at 138 West 100 South, SLC, Ut.
Oct 23, 5:30-7:00pm
Sugar Space presents: CO.da Master Class. Co.da is a professional cooperative modern dance company in residence at the Sugar Space. Sugar Space is located at 616 Wilmington Ave,SLC, UT.