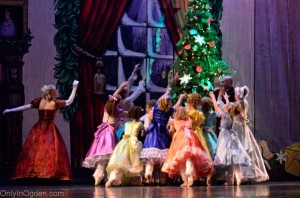 Ogden, Utah, August 15, 2014: Imagine Ballet Theatre (IBT), an Ogden-based ballet company, will hold auditions on September 6 , 2014 for the upcoming production of "The Nutcracker" ballet. Auditions will be held at their studios on 2432 Washington Blvd., Suites C & D, in Ogden from 10:00 am to 11:30 am Boys and girls ages 6-11 and 11:45-1:15 Boys and girls ages 12 and up are welcome to audition. Cost is $25.
Imagine Ballet Theatre's 2014 production of "The Nutcracker," with original choreography by Raymond Van Mason, will be performed in December at The Peery's Egyptian Theater in Ogden. Opportunities within the ballet for those selected include Party Boys and Girls, Rats, Soldiers, Gingerettes, Angels, and more. Dancers en pointe may audition for roles such as Snow, Waltz of the Flowers, and divertissements.
The company is widely recognized in the region as providing quality and professional-level performances. IBT received a Utah Best of State Award in 2005, and Mason received a 2006 Utah Best of State Award for Best Choreographer as well as the Ogden Mayor's Award for the Arts. In November 2006, company members were invited to perform at the McCallum Theater in Palm Desert, CA at the Dance Under The Stars Choreography Festival where they were awarded the Judy G. Mayer Small Group Award.
When:                          Saturday, September 6 , 2014
Registration 9:30-10:00 pm Ages 6-11; audition 10:00-11:30am
Registration 11:30-12:00pm Ages 12 and up; audition 11:45-1:15pm
Where:                        Imagine Ballet Theatre, 2432 Washington Blvd, Suites C & D, Ogden
Dress:                          Young Women: Black leotard, pink tights, ballet shoes, if dancer is en pointe bring pointe shoes, hair in a bun
Men:  White shirt, black tights, ballet shoes
Registration Fee:         $25.00, non-refundable
Other:                          Dancers must bring a photo