June 4-22 Join The School of Imagine Ballet Theatre for ages 5 to 11 no dance experience needed.  Class will be held Monday, Wednesday, Friday from 9:00 to 12:00.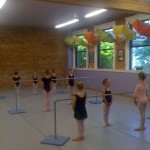 Ballet taught by Eden Chase  dancer in IBT and Faculty.
Art taught by Deanna Richardson our artist in residence.
Modern Dance taught by Carrie Miles our resident modern teacher.
Please call 801-393-5000 Between 2:00 and 4:00 M-F to reserve your spot. Register before May 1st and save $30.00.
Cost for the session is $210.00 includes art supplies.  Dancers will put on a small lunchtime performance on June 22, 2012 at 12:00 noon.
Second Session of this class will start July 9, 2012 for 5 weeks on Monday and Wednesday's from 10:00 to 1:00 pm. Cost is $220.00 for new students and $190.00 for current summer students.