The first week in our Music, Art, and Dance program has come to a close! This program runs throughout June, culminating at the end of IBT's Summer Intensive Program performance. Our class of little ballerinas, ages five to ten, have had a wonderful time learning this week.
Music, Art, and Dance focuses on each of the three disciplines for an hour each. We start the day with dance class.  For the first week, we have been focusing on the principles of basic ballet technique. Each young dancer is working hard to maintain alignment, focus on turnout, and remember ballet positions.  Learning to dance is like an extremely complicated version of learning to ride a bike – with so many things to think about, sometimes even remembering right from left can be tricky!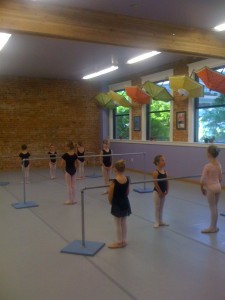 Next is music class. This week, we've been learning about all different aspects of music. Rhythm,  pitch, elements of an orchestra, and the way an instrument can sound. The students are learning the difference between woodwinds and brass, the beat of phrasing, and everything about musicality. As the girls attend both dance and music class, they are beginning to incorporate the elements of both disciplines together. This is especially helpful bringing the lessons from music class into their ballet lessons.
Finally, we end with an art lesson. Our focus this year has been whimsy and magic. Art instructor Deanna Richardson has the girls creating their own dance bags, making miniature fairies, and planting the beginning of their own fairy garden. This is a moment of sheer creativity for the kids – they are given instruction, art supplies, and materials, and from there it is up to them. The results of their creativity are amazing! The imaginations of each girl continues to grow and surprise us.
We've had  a great first week and can't wait to continue this month!