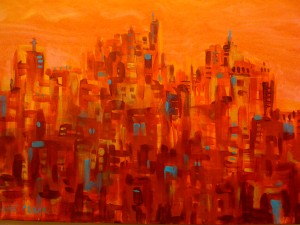 Nancy Grisanti Clark
I started painting in childhood, first in watercolor and then in oils. I put my paints away while I was busy with completing my college education, marriage, a daughter and a career in dental hygiene. Twenty-five years ago I started drawing and watercolor classes at the American River College in Sacramento, California, and I have been painting ever since.
My husband's job brought us to Utah in 1995. We chose to make our home in Ogden because of its rich history (my husband is a railroad buff), and supportive arts community.
I retired from dental hygiene in 2002, and with nine other brave local artists opened Gallery 25 artist cooperative. It is still thriving on Historic 25th Street. I left Gallery 25 in 2006 to work at Ogden Blue teaching watercolor painting and managing the art supplies.
In 2008, I was diagnosed with multiple sclerosis, and in 2009 I had to leave my job and studio at Ogden Blue. I now paint at my home at a slower pace, but I find it gives me a reason to get up in the morning. I also teach a weekly watercolor class at my home.  Mu students have become treasured friends who inspire me enormously and make me thankful that I still have a gift to share.
Besides watercolor, I work in acrylic, gouache, mixed media and printmaking.  I no longer work in oils for health reasons.  My style is contemporary, and I enjoy a variety of subject matter as well as abstraction.  I am especially drawn to the energy of cities and the spirituality of nature.
I have been a great fan of the Imagine Ballet Theatre since I saw their production of "The Secret Garden," and I am honored to be invited to be their featured artist for November!