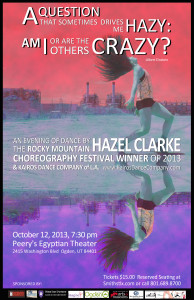 Hazel Clarke and the Karios Dance Company will present an evening of dance on Oct 12, 2013 at Peery's Egyptian Theater at 7:30 pm.  Tickets are available for $15.00 reserved seating.  All Utah High school dance classes may get in for $7.50 by mentioning High School Dance at the box office.
The full-length production will explore the complexities and aspects of mental illness and its effect on society as well as the individual himself.  As the audience takes a tour through the fictional facilities of Sunny-ville Mental Health Institute, they meet colorful characters as well as lost souls, and experience both the archaic and cutting-edge methods of  psychiatric treatment used throughout history as well as today.
www.kairosdancecompany.com for more info about Kairos Dance Company

Sponsoring the evening:  Imagine Ballet Theatre, Peery's Egyptian Theater, Utah Dance Educators Organization, Weber State Dance Department, Ben Lomond Suites Hotel, Only in Ogden, Ogden City, Utah Division of Arts and Museums and NamiUtah.
www.namiut.org for more info on Mental Health in Utah.